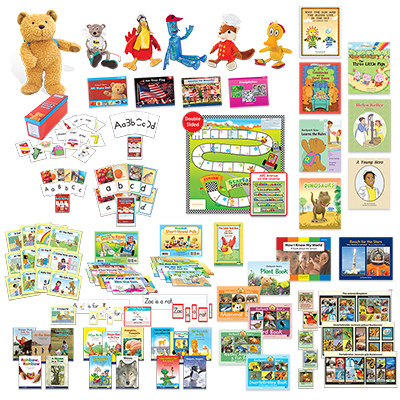 Scroll down to select options and buy now.
TKIT04
K-ELA Second Edition Classroom Curriculum
$345.00/kit
K ELA E2 Classroom Kit - TKIT04
This update to our Kindergarten Curriculum includes all of the components from our original program, with expanded lessons and new improvements you will love! Starfall Kindergarten helps you establish a collaborative environment in which struggling readers, English language learners, and advanced readers explore, learn, and grow - together. This playful and effective program teaches reading and writing skills, with content-area instruction in technology, social studies, and science.
Starfall's Kindergarten ELA Curriculum is aligned with the Common Core State Standards as well as the learning standards in several individual states. Click here for more information.
Starfall.com membership sold separately. The Complete Printed Teacher's Guide is available as an optional add-on for purchase.
This kit includes ALL of the following (click the (+) sign to learn more):
New in the Second Edition
Increased writing including a daily Magic Writing Moment and opinion, expository, and narrative writing lessons
Introduction to grammar skills (nouns, verbs, adjectives, contractions, inflectional endings)
Zac and Friends Chapter Books
Increased higher order critical thinking questions
Modifications for English Language Learners
Additional Science and Social Studies content
Complete Downloadable Kindergarten ELA Second Edition Teacher's Guide
Read Me First Curriculum Overview
10 Units, 31 weeks of daily instruction
Includes assessments, color supplements and blackline masters
Available for download in the Parent-Teacher Center™
Anchor Charts (Capitalization, Punctuation, Schema, Spacing, Writing Rubrics)
Teaching Tools
Essential Questions Cards
Instructional Cards
Story Elements Cards
Backpack Bear's Pre-decodable Phonics Kit
Plush Backpack Bear
Sound-Spelling Wall Cards
Letter Formation Wall Cards
Sentence Strips for Pre-Decodable Books
Backpack Bear's ABC Rhyme Book
Sound-Spelling Instructional Cards
Set of 12 Backpack Bear's Books
Decodable Phonics Kit
Plush Zac the Rat
Plush Peg the Hen
Plush Tin Man
Plush Mox the Fox
Plush Gus the Duck
Sentence Strips for Learn to Read books
Set of 15 Learn to Read Books
Set of 16 Short-Vowel Pals Books
Science and Social Studies Kit
Backpack Bear's Plant Book
Backpack Bear's Mammal Book
Backpack Bear's Bird Book
Backpack Bear's Reptiles, Amphibians and Fish Book
Backpack Bear's Invertebrates Book
Backpack Bear's Animal Kingdom poster set
Precipitation book
Dinosaurs! book
Reach for the Stars book
How I Know My World book
Backpack Bear Learns the Rules book
America the Beautiful book
I Am Your Flag book
Helen Keller book
A Young Hero book
Music and Rhymes
Starfall Sing-Along Volume 1
Starfall Sing-Along Volume 2
Read to Me Fiction
The Three Little Pigs
Goldilocks and the Three Bears
Why the Sun and the Moon Live in the Sky
Order required practice books and variable quantity items by answering the questions below.
Classroom Questionnaire
Classroom Questionnaire
Required
Items
Optional
Items
Website Membership
Review Your Order