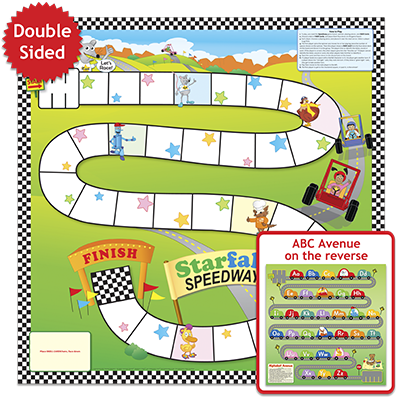 NG01
Starfall Speedway/Alphabet Avenue Game
Starfall Speedway and Alphabet Avenue are great games for children to practice phonetic strategies and word recognition. Starfall Speedway is for children ready to start reading. Skill cards prompt children to identify letter, sound, or word in order to advance their game piece.
On the reverse side of the board, Alphabet Avenue is for children just learning letter/sound relationships. No skill cards are required. Children have the option to name the letter, the sound it represents, or a word beginning with that letter in order to advance their playing piece.
Enjoy this wonderful, sturdy game set in your classroom or at home. Both games require collaboration among players, yet there's a clear finish line motivating each player to win!
ISBN: 978-1-59577-147-6

©2015 Starfall Education
Dimensions: 11" X 11" X 2"

WARNING: CHOKING HAZARD
Small parts. Not for children under 3 yrs.
Related Products