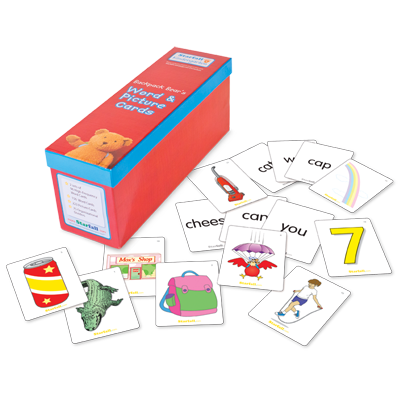 NX02
Backpack Bear's Word and Picture Card Set
The Boxed Set includes 223 Picture Cards for phonemic awareness and phonics activities, 156 Word Cards for decoding and word recognition activities, 2 sets of 96 High-Frequency Word Cards and 75 Organizational Dividers. The versatile cards fit in most pocket charts and are for teacher and student use.
Suggested Activities
Play "Memory" or other matching games using high-frequency cards
Make picture and corresponding word card matches playing "Old Maid"
Play a guessing game where a child selects a picture card, then offers clues (including beginning/ending letter or sound)
Encourage children to select a card, identify its ending sound, then name another word with the same ending sound
Use the cards to play the Starfall Speedway Game
Encourage your students to invent their own games!
ISBN: 978-1-59577-192-6

©2014 Starfall Education
Dimensions: 12" X 3.75" X 5.25"
Related Products