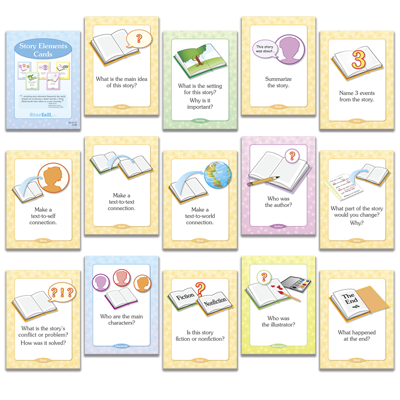 C150
Story Elements Cards
These 14 Story Elements Cards develop reading comprehension skills and strategies that support ELA Literacy Standards for Reading.
Suggested Activities
During group instruction, choose a story with a clear problem and solution, reveal each card in turn, and discuss its relationship to the book.
In conjunction with the Starfall Speedway Board Game, children advance their game piece by answering questions for a chosen text.
Partner advanced readers with struggling readers to discuss a story using the cards as prompts.
During independent writing, students use the cards as reminders to develop a story map for their writing.
For group writing, use the cards to guide the creation of a shared story.
©2008 Starfall Education
Dimensions: 6.5" X 4.5" X 0.33"