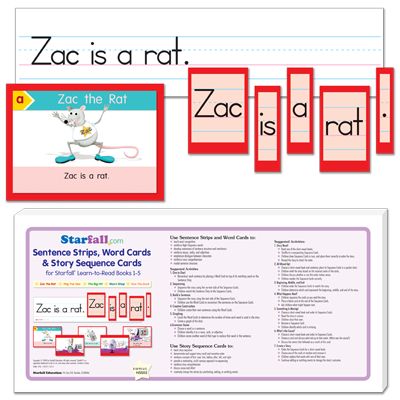 NSS03
Sentence Strips, Word Cards & Story Sequence Cards for Starfall Learn to Read Books 1-5
For use in pocket charts or games, or as part of our Kindergarten ELA Curriculum, these cards are indispensable in building literacy! Sentence Strips, Word Cards & Story Sequence Cards for Starfall Learn to Read Books 1-5 correspond to the Predecodable Books in Learn to Read Cut-Up/Take-Home Books.
Suggested Activities
Introduce one of the books, then read its corresponding sentence strips, prompting children to predict words.
Invite students to place sentence word cards in the appropriate place on the sentence strip.
Offer a scrambled batch of words for children to arrange properly on the sentence strip.
Encourage students to create new sentences using individual word cards.
Play "Name the Missing Word" to complete the sentence.
Use Learn to Read Cut-Up/Take Home Books as guides to arrange sentence strips.
ISBN: 978-1-59577-122-3

©2008 Starfall Education
Dimensions: 6" X 13" X 0.6"