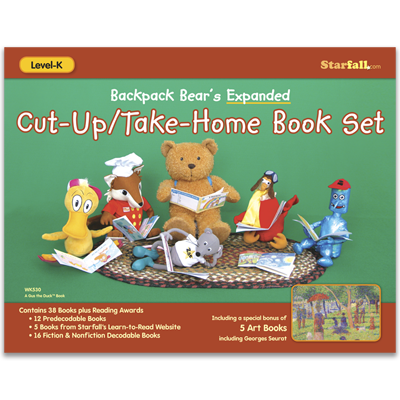 WK530
Level-K Cut-Up/Take-Home Book Set
$3.79/set 20 or more items: $3.29/set
These books are take-home versions of Backpack Bear's books, Learn to Read and Short-Vowel Pals sets. Provide each child with their own books to practice at home or school. These predecodable and decodable books help beginner readers build phonics skills, featuring Starfall's favorite characters.
Bright-Star Award certificates are included to provide a sense of accomplishment once your reader masters each set!
Cut-Up Take-Home Books
A Computer
At School
A Rainbow
At the Park
At the House
The Map
At the Post Office
Come Vote with Me
At the Library
The Bottle in the River
Ruby Goes to School
We Can See!
Zac the Rat
Zac and Cat
Zac and the Hat
Peg the Hen
Peg Helps Zac
Peg's Egg
Hen
Mox's Shop
Mox Jogs
Hop, Bend, Stomp
Pop! Pop! Pop!
The Big Hit
Tin Man Sits
Fix the Jet
Fish and Me
Gus the Duck
Bug in a Jug
Get Up, Cub
Gus and His Dog
Peg and the Box
Zig-Zag
Vincent van Gogh
Georges Seurat
Paul Gauguin
Ernie Barnes
Dorothy Strait
Order 10+ to receive free pencils!
Fiction, Nonfiction, 82 pages
ISBN: 978-1-59577-096-7

©2015 Starfall Education
Dimensions: 10.75" X 8.5" X 0.35"