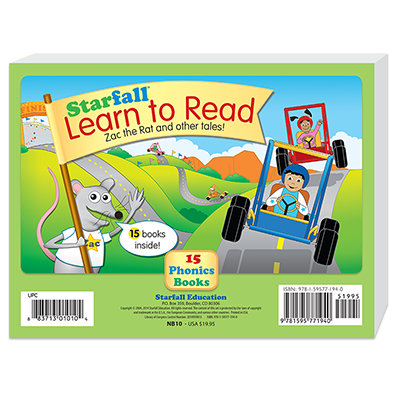 NB10
Set of 15 Learn to Read Books
$15.95/set 5 or more items: $11.95/set
Launch your children's reading experiences with these primer books designed for explicit phonics instruction. Interactive versions of these books are available on Starfall's website.
Set of 15 Learn to Read Books
Zac the Rat
Peg the Hen
The Big Hit
Mox's Shop
Gus the Duck
Jake's Tale
Pete's Sheep
Sky Ride
Robot and Mr. Mole
Dune Buggy
Soap Boat
Car Race
My Horse Glory
Surfer Girl
My Family
Fiction, 120 pages
ISBN: 978-1-59577-194-0

©2014 Starfall Education
Dimensions: 6" X 8" X 1"
| atos | dra | a-z | lexile |
| --- | --- | --- | --- |
| 0.3-1.4 | 2-12 | B-G | BR-70 to 80-450 |