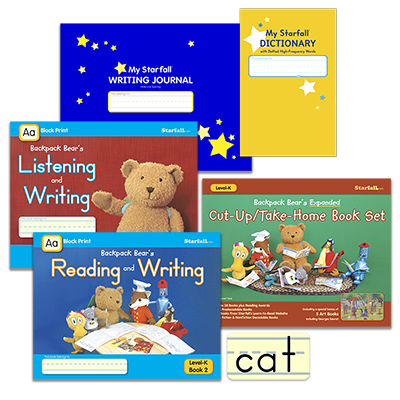 KIT60
Level-K Practice Books Kit - Block Print
$9.95/set
The complete set of Starfall's Level-K practice books. All five books are packaged together, making it easy to order for a whole class. Invite children to practice phonemic skills through multiple pathways of learning: listening, writing and reading activities in the practice books; reading practice in the take-home books; free-writing and illustrating in the writing journal; word writing and alphabetizing in the dictionary.
Purchase one kit for each student in your class, so that each child has these practice materials to build a portfolio of their emerging literary skills.
Level-K Practice Books Kit - Block Print
Level-K Listening and Writing Journal - Block Print
Level-K Reading and Writing Journal - Block Print
Level-K Cut-Up/Take-Home Books
My Starfall Writing Journal
My Starfall Dictionary
Order 20+ to receive free pencils!
ISBN: 978-1-59577-092-9
978-1-59577-094-3
978-1-59577-096-7
978-1-59577-031-8
978-1-59577-198-8
978-1-59577-201-5

Dimensions: 11" X 8.5" X 1"
Related Products