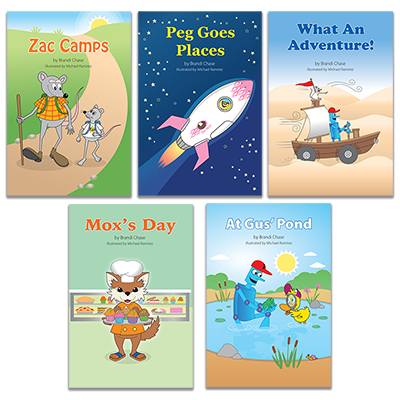 NB40
Zac and Friends Chapter Books
$9.95/set 4 or more items: $7.95/set
These decodable chapter books provide ongoing reading practice and exciting stories about favorite Starfall characters.
You will need to purchase at least 1 set of Zac and Friends Chapter Books for every 2 students.
Set of 5 Zac and Friends Chapter Books:
Zac Camps
Peg Goes Places
What An Adventure!
Mox's Day
At Gus's Pond
ISBN: 978-1-59577-249-7
978-1-59577-241-1
978-1-59577-242-8
978-1-59577-243-5
978-1-59577-244-2
978-1-59577-245-9

©2017 Starfall Education
Dimensions: 5.75" X 0.5" X 8.5"
| atos | dra | a-z | lexile |
| --- | --- | --- | --- |
| 0.40-2.7 | 2-10 | B-F | BR-70 to 80-450 |
Related Products