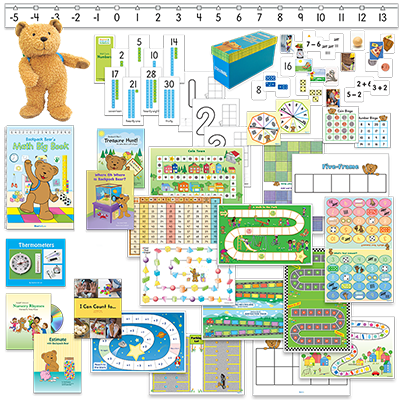 Scroll down to select options and buy now.
MTKIT02
Kindergarten Mathematics Classroom Kit
$185.00/kit
Count down to an adventure through a galaxy of mathematical concepts with Starfall Kindergarten Mathematics. Starfall students will explore the universe of mathematical thinking, using numbers, shapes, and measurement tools while connecting mathematics to everyday scenarios and practical problem solving. The curriculum is standards-aligned and includes early algebraic concepts.
Starfall's Kindergarten Math Curriculum is aligned with the Common Core State Standards as well as the learning standards in several individual states. Click here for more information.
Starfall.com membership sold separately. The Complete Printed Teacher's Guide is available as an optional add-on for purchase.
This kit includes ALL of the following (click the (+) sign to learn more):
Complete Downloadable Kindergarten Mathematics Teacher's Guide
Read Me First Curriculum Overview
14 Units, 33 weeks of daily instruction
Includes assessments, color supplements, and blackline masters
Available for download in the Parent-Teacher Center™
Teaching Tools
Classroom Number Line
Numbers Wall Cards
Backpack Bear's Math Big Book: Big Book is 11" x 17", spiral bound
Backpack Bear's Math Games - 2 sets: 12 board games, Large 10-Frame and 5-Frame, 6 two-sided bingo cards, 6 spinners, 6 playing pieces
Backpack Bear's Math Instructional Cards: Numerals, Dice, Dominoes, Ten-frames, Tally marks, Shapes, Shape Photos, Money, Pictures with Price Tags, Measuring Tools, People Who Measure, Weather, Thermometer Cards, Temperature Scenes, Addition and Subtraction Equations
Number Activity Mats
Books
Backpack Bear's Treasure Hunt
Where Oh Where Is Backpack Bear?
Estimate with Backpack Bear
I Can Count to...
Thermometers
Classroom Math Questionnaire
Classroom Math Questionnaire
Required
Items
Optional
Items
Website Membership
Review Your Order