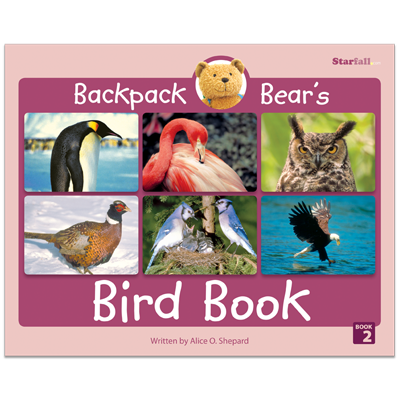 SB875
Backpack Bear's Bird Book
Part of the Animal Kingdom Series, Backpack Bear's Bird Book is a delightful informational text to understand these warm blooded vertebrates. Readers will learn about general characteristics of birds, variations between species, hatchlings, habitat, diet, and migration. The book includes vivid photographs, a rich glossary, index, and "Can you guess what animals these are by looking at their feet?" page. Use this text to inspire your children's presentation skills and extend their range of writing.
Nonfiction, 32 pages
ISBN: 978-1-59577-087-5

©2009 Starfall Education
Dimensions: 8" X 10" X 0.13"
| atos | dra | a-z | lexile |
| --- | --- | --- | --- |
| 3.3 | 28 | N-P | 551-650 |