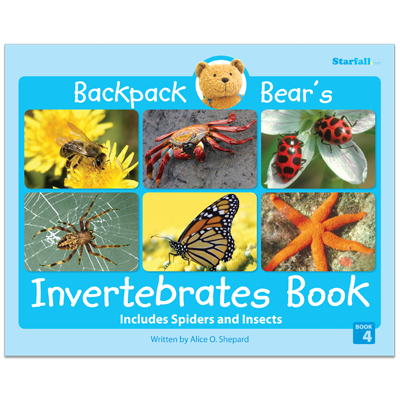 SB899
Backpack Bear's Invertebrates Book
Part of the Animal Kingdom Series, Backpack Bear's Invertebrates Book provides a research foundation to learn about animals without backbones. The first chapter discusses the various types of invertebrates and how to classify them. Chapter two focuses on arthropods and distinguishes insects from spiders. The final chapter is dedicated to the largest group of arthropods: insects. The book includes vivid photographs, a rich glossary, index, and "What Is the Food Chain?" enrichment. Use this text to inspire your children's presentation skills and extend their range of writing.
Nonfiction, 32 pages
ISBN: 978-1-59577-089-9

©2009 Starfall Education
Dimensions: 8" X 10" X 0.13"
| atos | dra | a-z | lexile |
| --- | --- | --- | --- |
| 3.3 | 28 | N-P | 551-650 |