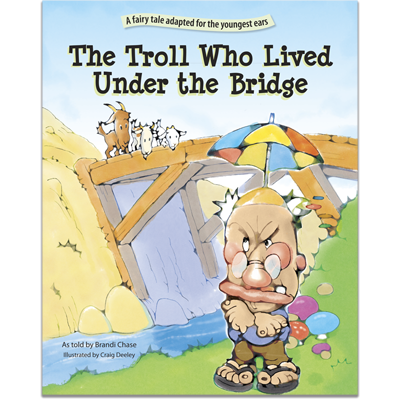 SB1506
The Troll Who Lived Under the Bridge
In this telling of The Troll Who Lived Under the Bridge, the Troll sets off to replant and water the barren, brown side, and stop the goats from destroying the lush, green side. The bridge covered river is all that separates the two hillsides. Can the Troll stop the billy-goat brothers named "Gruff" from eating all the grass and turning the hill from green to brown? This story offers a valuable resource management lesson-- the importance of taking care of our environment so it can be enjoyed for years to come. The illustrations provide insight into how these characters interact, and the curmudgeonly Troll will inspire you to use your "troll voice."
The books in our series "Fairy tales adapted for the youngest ears" have been retold with young children in mind. Fearful and conflicting elements have been removed without compromising the essence of the tale. Your child will love hearing these stories and gain an essential cultural foundation for future independent reading.
Fairy Tales, 32 pages
ISBN: 978-1-59577-150-6

©2012 Starfall Education
Dimensions: 10" X 8" X 0.13"
| atos | dra | a-z | lexile |
| --- | --- | --- | --- |
| 3 | 24 | M | 551-600 |
Related Products