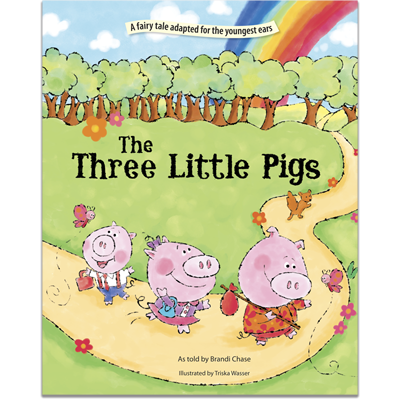 SB1414
The Three Little Pigs
Children love hearing fanciful stories in which characters become legendary. The Three Little Pigs is a retelling of the classic story but with a twist. The pigs teach the wolf that huffing and puffing isn't the way to get what you want. Discuss this parable to remind children to communicate their needs clearly to get along with others. This story offers a valuable economics lesson-- rather than settle for cheap, fast, and flimsy, invest in high quality materials and hard work for lasting results.
The books in our series "Fairy tales adapted for the youngest ears" have been retold with young children in mind. Fearful and conflicting elements have been removed without compromising the essence of the tale. Your child will love hearing these stories and gain an essential cultural foundation for future independent reading.
Fairy Tales, 24 pages
ISBN: 978-1-59577-141-4

©2012 Starfall Education
Dimensions: 10" X 8" X 0.13"
| atos | dra | a-z | lexile |
| --- | --- | --- | --- |
| 3.7 | 34 | S | 691-770 |