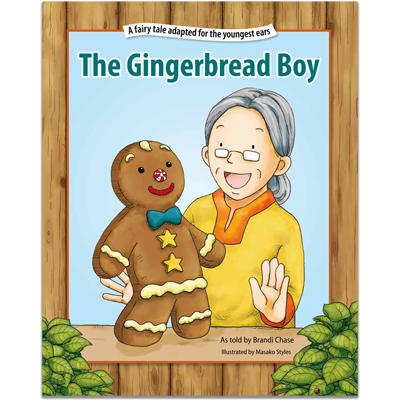 SB1322
The Gingerbread Boy
Children love hearing fanciful stories in which characters find mischief and are saved by a helpful guide. The Gingerbread Boy was baked by a lonely old woman who wanted company, but the quick-footed cookie dashes through the forest on some wild adventures, being rescued just in time. Gingerbread Boy is far from being a gingerbread man and has lots to learn from Grandmother. Grandmother and Gingerbread Boy are core elements of our Pre-K Curriculum. Bring them to life with our plush characters and interactive activities in which Gingerbread Boy inspires children to learn. The book includes a gingerbread cookie recipe.
The books in our series "Fairy tales adapted for the youngest ears" have been retold with young children in mind. Fearful and conflicting elements have been removed without compromising the essence of the tale. Your child will love hearing these stories and gain an essential cultural foundation for future independent reading.
Fairy Tales, 24 pages
ISBN: 978-1-59577-132-2

©2012 Starfall Education
Dimensions: 10" X 8" X 0.13"
| atos | dra | a-z | lexile |
| --- | --- | --- | --- |
| 3.1 | 30 | Q-R | 651-730 |