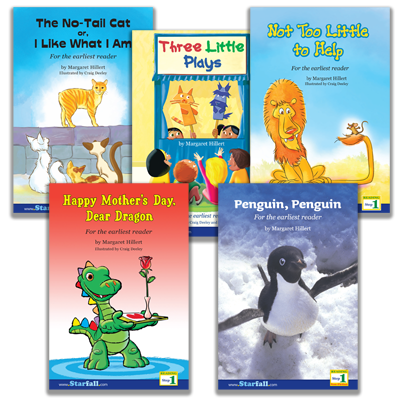 NSMH5-1
"I'm Reading!" Softcover Set 1
$9.95/set 4 or more items: $7.95/set
This softcover set of Margaret Hillert books is an indispensable addition to any classroom or home library. A mix of fiction and nonfiction stories will delight and engage beginning readers.
"I'm Reading!" Softcover Set 1
The No-Tail Cat or, I Like What I Am
Three Little Plays
Not Too Little to Help
Happy Mother's Day, Dear Dragon
Penguin, Penguin
Plays, Fiction, Nonfiction, 160 pages
ISBN: 978-1-59577-144-5
978-1-59577-019-6
978-1-59577-023-3
978-1-59577-027-1
978-1-59577-025-7
978-1-59577-021-9

Dimensions: 8.5" X 6" X 0.75"
| atos | dra | a-z | lexile |
| --- | --- | --- | --- |
| 0.8-1.1 | 6-10 | D-F | 80-450 |