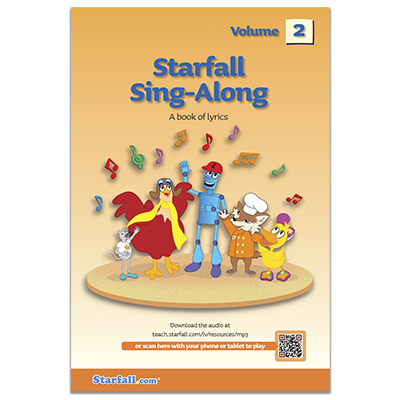 SB1520
Starfall Sing-Along Volume 2
Part of our Pre-K Curriculum, Starfall offers a wide selection of favorite songs for your classroom or home to make learning fun! A sequel to Starfall Sing-Along Volume 1, this book offers 52 printed lyrics and songs. Sing along to build phonics and counting skills. Play select tracks to signal transitions, a great classroom management tool.
Starfall Sing-Along Volume 2
Aa/a/Alligator
Aiken Drum
Are You Sleeping? (Frere Jacques)
Autumn Leaves
BINGO
Coming Round the Mountain
Day and Night
Dinosaur Dance
Down by the Bay
Five Little Bees
Five Little Farmers
Five Little Speckled Frogs
Five Little Teddy Bears
Going on a Forest Walk
Happy and You Know It
If All the Raindrops
I'm A Little Teapot
I've Been Working on the Railroad
Jimmy Crack Corn
John Jacob Jingleheimer Schmidt
Let's Stay Healthy!
Little Jack Pumpkin Face
Little Red Caboose
London Bridge
Mix a Pancake
Months of the Year
Muffin Man
Oceans
One Little Elephant Went Out to Play
One Potato
Parts of My Body
Plane Ride
Pop Goes the Weasel
Shoo Fly
Six Little Ducks
Skip to My Lou
Teddy Bear, Teddy Bear, Turn Around
Ten Bears in the Bed
The Ants Go Marching
The Bear Went Over the Mountain
The Falling Star
The Gingerbread Boy
The Goodbye Song
The Little Turtle
The More We Get Together
The Time Song
There's a Hole in the Bottom of the Sea
Where Is My Head?
Where Is Thumbkin?
Yankee Doodle
Yonder in the Pair, Pair Patch
Nursery Rhymes, 40 pages
ISBN: 978-1-59577-152-0

©2011 Starfall Education
Dimensions: 0.13" X 8" X 10"
Related Products