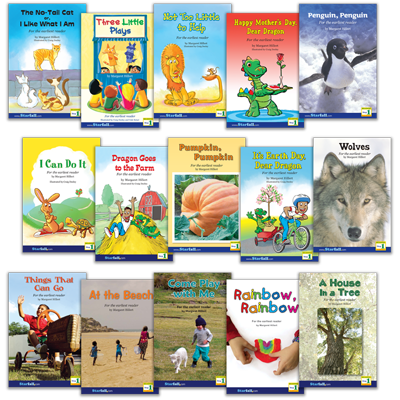 KIT65
"I'm Reading!" Mega Set of 15 Books
Get all 3 softcover sets at once. This Mega Set of 15 I'm Reading! books by Margaret Hillert is an indispensable addition to any classroom or home library. Invite beginning readers to relate to their own experiences as they build early literacy.
"I'm Reading!" Set of 15 Books
The No-Tail Cat or, I Like What I Am
Three Little Plays
Not Too Little to Help
Happy Mother's Day, Dear Dragon
Penguin, Penguin
I Can Do It
Dragon Goes to the Farm
It's Earth Day, Dear Dragon
Pumpkin, Pumpkin
Wolves
Things That Can Go
At the Beach
Come Play with Me
Rainbow, Rainbow
A House in a Tree
Nonfiction, Fiction, 480 pages
Dimensions: 8.5" X 6" X 2"
| atos | dra | a-z | lexile |
| --- | --- | --- | --- |
| 0.7-1.2 | 6-10 | D-F | 80-450 |