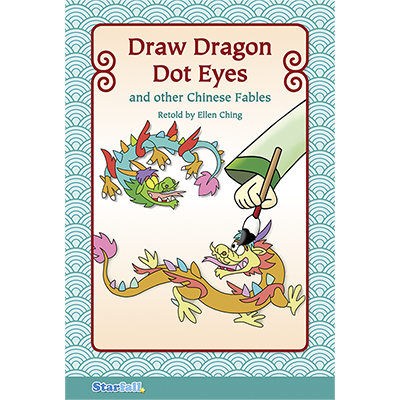 SB547
Draw Dragon Dot Eyes and other Chinese Fables
$5.95/ea 5 or more items: $3.95/ea
Draw Dragon Dot Eyes and other Chinese Fables offers 6 ancient Chinese fables, some based on alleged events, while others are creations of pure imagination. The fables adapted for this collection are highly interesting, sure to stimulate readers' interest and motivation. The vivid illustrations, Chinese characters and concise text elegantly communicate the philosophical idea of the ancient originals. In Chinese, just as in English, we use sayings or idioms to express ideas, packing an entire story in four words. This book reminds us of the universal power of imagery, words, storytelling, and cultural legacies, both real and imagined.
Draw Dragon Dot Eyes and other Chinese Fables
Draw Dragon Dot Eyes

Dung-Shi Copies Eyebrows

Yay-Gung Loves Dragons

One Rice Thousand Gold

Morning Three Night Four

Cup Bow Snake Reflection
Fiction, Folk Tales, 71 pages
ISBN: 978-1-59577-054-7

©2015 Starfall Education
Dimensions: 8.5" X 5.75" X 0.25"
| atos | dra | a-z | lexile |
| --- | --- | --- | --- |
| 1.8-2.5 | 14-20 | H-L | 80-450 |
Related Products