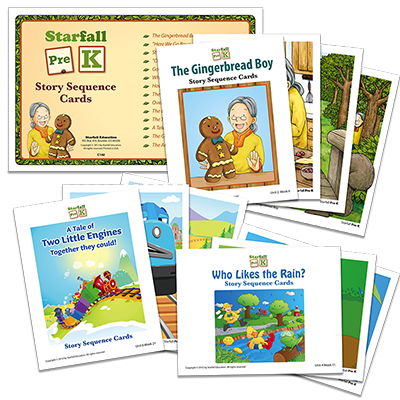 C160
Story Sequence Cards
Story Sequence Cards are used with the Pre-K Curriculum to develop early reading comprehension skills. Children order the sequence of events for 12 stories in the Pre-K book collection and 2 nursery rhymes. 32 sheets.
Story Sequence Cards:
The Gingerbread Boy
"Here We Go Round the Mulberry Bush"
Stone Soup
"One Two, Tie My Shoe"
Goldilocks and the Three Bears
Who Likes the Rain?
How the Turtle Cracked Its Shell
The Troll Who Lived Under the Bridge
Over in the Meadow
The Ugly Duckling
The Three Little Pigs
A Tale of Two Little Engines
The Green Grass Grew All Around
The Ant and the Chrysalis
ISBN: 978-1-59577-233-6

©2012 Starfall Education
Dimensions: 11" X 8.5" X 1"