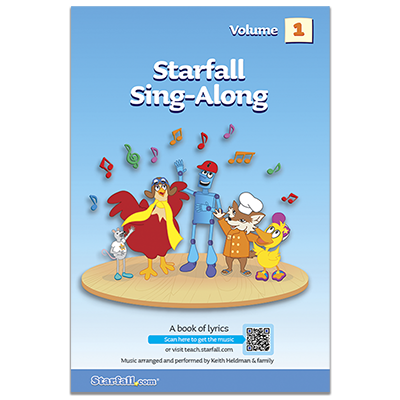 SB912
Starfall Sing-Along Volume 1
Children learn while singing, clapping, dancing, and signing to these classic and contemporary songs. Starfall brings a wide selection of music to your classroom or home to make learning fun! The alphabet and the short vowel songs reinforce letters and sounds; number songs strengthen counting skills. Show the song lyrics to children while singing along to the music. Play select tracks to signal transitions between learning activities, a great classroom management tool. Download the audio free at teach.starfall.com.
Starfall Sing-Along Volume 1
A Hunting We Will Go
Alphabet Song
America the Beautiful
Backpack Bear's ABCs
Backpack Is a Little Bear
Down by the A-B-Sea
Every Day Is Earth Day
Five Little Bears
Five Little Chickadees
Five Little Monkeys
Georgie Porgie
Head, Shoulders, Knees and Toes
Hens Are Marching
Hey Diddle Diddle
Hickory, Dickory, Dock
Humpty-Dumpty
Jam
Little Plant
Looby Loo
Mary Had a Little Lamb
Months of the Year
Mulberry Bush
Old McDonald Had a Farm
One, Two, Buckle My Shoe
Open Them, Shut Them
Peas Porridge Hot
Peg and Gus
Short-a Song
Short-e Song
Short-i Song
Short-o Song
Short-u Song
Take Me Out to the Ball Game
Teddy Bear Says,"Thank You"
The Clever Hen
Today Is Monday
Traffic Lights
Twinkle, Twinkle, Little Star
Wee Willie Winkie
What's the Weather?
Wheels on the Bus
Where Is A-Z?
Zig-Zag
Zipper Coat
Nursery Rhymes, 32 pages
ISBN: 978-1-59577-091-2

©2009 Starfall Education
Dimensions: 8.5" X 5.75" X 0.25"
Related Products