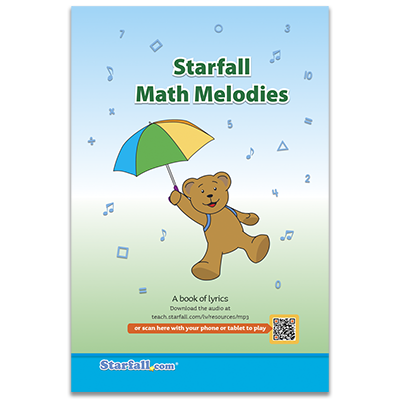 MB2145
Starfall Math Melodies (CD Included)
Part of our Kindergarten Mathematics curriculum, Starfall offers a wide selection of familiar songs in this book of lyrics and CD, which will reinforce counting and other math concepts in your classroom or home.
Starfall Math Melodies
Baa, Baa, Black Sheep
Bingo
Circle Song
Five Little Bears
Five Little Bees
Five Little Chickadees
Five Little Farmers
Five Little Monkeys
Five Little Speckled Frogs
Five Little Teddy Bears
Hickory, Dickory, Dock
Little Bo Peep
Little Boy Blue
Looby Loo
Months of the Year
Mulberry Bush
One Little Elephant Went Out to Play
One Potato
One, Two, Buckle My Shoe
One, Two, Three, Four, Five
Rectangle Boogie
Six Little Ducks
Ten Bears in the Bed
The Ants Go Marching
The Time Song
The Pirate Song
The Zero Song
There's a Neat Little Clock
This Old Man
Three Crows
Three Little Kittens
Today Is Monday
Triangle Waltz
Wee Willie Winkie
What's the Weather?
Yonder in the Pair, Pair Patch
32 pages
ISBN: 978-1-59577-214-5

©2016 Starfall Education
Dimensions: 9" X 6" X 0.25"