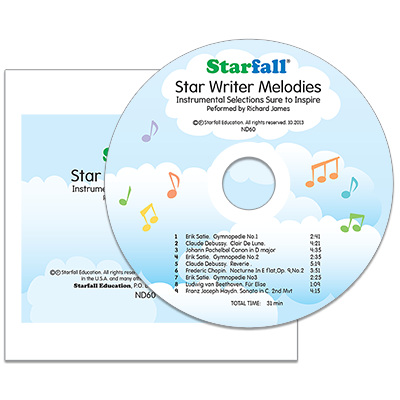 ND60
Star Writer Melodies CD
Enjoy this sample of classical music: a wonderful classroom management tool! The short (1-5 minutes) selections can be used to encourage focus or as a signal to transition between activities. Consider playing a piece, then having children describe the music, then play it again and identify their emotions as they listen. Compare/contrast different types of music and how children feel as they listen.
Star Writer Melodies
Erik Satie. Gymnopedie No. 1
Claude Debussy. Clair De Lune
Johann Pachelbel. Canon in D major
Erik Satie. Gymnopedie No. 2
Claude Debussy. Reverie
Frederic Chopin. Nocturne in E flat, Op. 9, No. 2
Erik Satie. Gymnopedie No. 3
Ludwig van Beethoven. Fur Elise
Franz Joseph Haydn. Sonata in C, 2nd Movement
©2014 Starfall Education
Dimensions: 5" X 5" X 0.1"