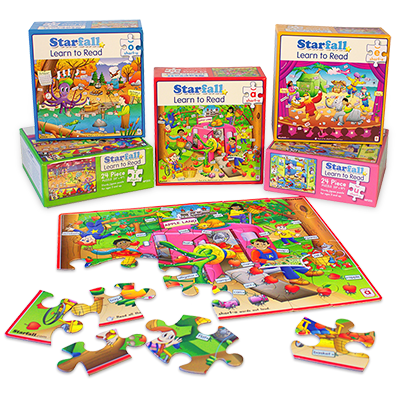 NP20
Short-Vowel Puzzle Set (5 sturdy puzzles: a,e,i,o,u)
This set features five puzzles, each focusing on a short vowel. After your beginning readers put a puzzle together, encourage them to point and say the pictured short vowel words, and notice the common vowel sounds.
Suggested Activities
After assembling the puzzle, take turns finding and naming all of the short vowel words. Listen very carefully to the short vowel words your friends choose; don't repeat their words
Use clues printed on the box to help find the short vowel words
Enjoy coming up with your own clues; your friends guess
Listen to Starfall Sing-Along (vol. 1), tracks 28-32 (short vowel songs) while you work
Which puzzle(s) would you be in? Identify short vowel(s) in your name
Make up a story using the characters and actions pictured in the puzzle
ISBN: 978-1-59577-028-8

©2015 Starfall Education
Dimensions: 12" X 12" X 5.5"

WARNING: CHOKING HAZARD
Small parts. Not for children under 3 yrs.