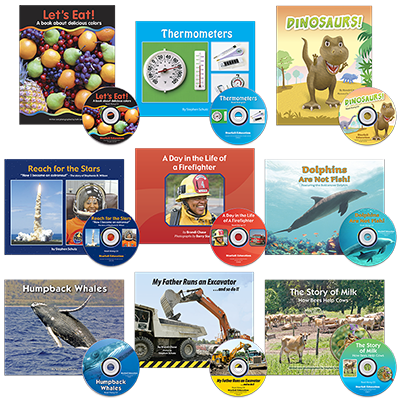 PKNF-SET
Set of 9 Nonfiction Books with Read-Along CDs
Set of 9 Nonfiction Books with Read-Along CDs
Using vivid, real-world photographs and fascinating facts, this colorful set of informational texts is a perfect supplement for STEM instruction.
Let's Eat!
Thermometers
Reach for the Stars
A Day in the Life of a Firefighter
Dinosaurs!
Dolphins Are Not Fish
Humpback Whales
My Father Runs an Excavator
The Story of Milk
Dimensions: 8" X 1.68" X 10"
| atos | dra | a-z | lexile |
| --- | --- | --- | --- |
| 1.2-3.3 | 10-28 | F-P | 80-450 to 551-650 |