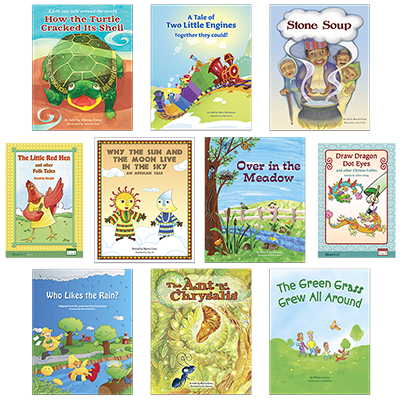 PKFO
Set of 10 Folk Tales and Fables Books
10 Folk Tales and Fables Books
Children around the world love to hear folk tales, and parents and grandparents love to tell them. This set of traditional folk tales and fables from around the world use parable and symbolism to explore interpersonal relationships, overcoming adversity, and the mysterious wonders of the natural world.
The Little Red Hen and other Folk Tales
Draw Dragon Dot Eyes and other Chinese Fables
How the Turtle Cracked Its Shell
A Tale of Two Engines
Stone Soup
Over In the Meadow
Who Likes the Rain?
The Ant and the Chrysalis
The Green Grass Grew All Around
Why the Sun and the Moon Live in the Sky
ISBN: 978-1-59577-255-8
978-1-59577-055-4
978-1-59577-054-7
978-1-59577-137-7
978-1-59577-143-8
978-1-59577-133-9
978-1-59577-155-1
978-1-59577-138-4
978-1-59577-153-7
978-1-59577-151-3
978-1-59577-134-6

Dimensions: 8" X 1.68" X 10"
| atos | dra | a-z | lexile |
| --- | --- | --- | --- |
| 1.3-3.3 | 10-28 | F-P | 80-450 to 551-650 |