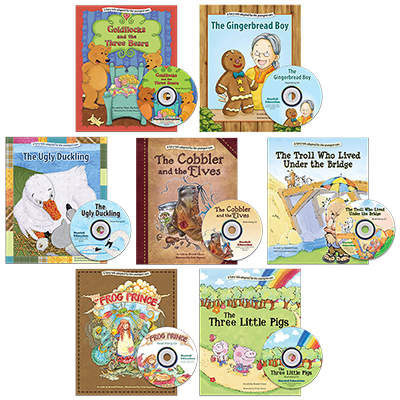 PKTA-SET
Set of 7 Fairy Tale books with Read-Along CDs
Fairy Tales adapted for the youngest ears - 7 books with read-along CDs
The stories in our series "Fairy tales adapted for the youngest ears" have been retold with young children in mind. Fearful and conflicting elements have been removed without compromising the essence of the tales. Your child will love hearing these stories and gain an essential cultural foundation for future independent reading.
Goldilocks and the Three Bears
The Gingerbread Boy
The Ugly Duckling
The Cobbler and the Elves
The Frog Prince
The Three Little Pigs
The Troll Who Lived Under the Bridge
Dimensions: 8" X 1.5" X 10"
| atos | dra | a-z | lexile |
| --- | --- | --- | --- |
| 3-4.2 | 24-34 | M-S | 551-600 to 691-770 |