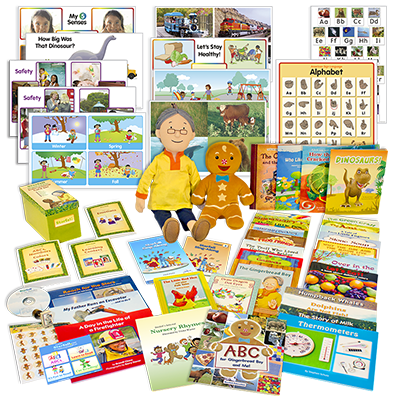 PHKIT01
Pre-K Homeschool Kit, First Edition
$199.00/kit
Pre-K Homeschool Kit
Give your child a love of learning and a running start in kindergarten with the Starfall Pre-Kindergarten Curriculum. This exciting program integrates math, science, health, creative arts, social studies, physical movement, early literacy, and social­-emotional development, all under a framework of guided instruction and imaginative play.
Starfall's Pre-K Curriculum is approved in multiple states and aligned with state learning goals in other states. Click here for more information.
This program includes a free one-year home membership to Starfall.com.
This kit includes ALL of the following (click the (+) sign to learn more):
Complete Downloadable Teacher's Guide
Read Me First Curriculum Overview for Homeschoolers
7 themed units, 25 weeks of daily instruction
Includes Learning Center instructions, Holiday Plans, assessments, blackline masters, Story Sequence Cards and more
Available for download in the Parent-Teacher Center™
Core Resource Books
Starfall's Selected Nursery Rhymes book with CD
ABC for Gingerbread Boy and Me!
Plush Characters
Gingerbread Boy
Grandmother
Fairy Tales
The Gingerbread Boy
Goldilocks and the Three Bears
The Frog Prince
The Ugly Duckling
The Cobbler and the Elves
The Troll Who Lived Under the Bridge
The Three Little Pigs
Folk Tales & Fables
How the Turtle Cracked Its Shell
The Tale of Two Little Engines
Stone Soup
Why the Sun and the Moon Live in the Sky
The Ant and the Chrysalis
Who Likes the Rain?
Over in the Meadow
The Green Grass Grew All Around
Little Red Hen and other Folk Tales
Draw Dragon Dot Eyes and other Chinese Fables
Informational Texts
Let's Eat! A book about delicious colors
Thermometers
Dinosaurs!
A Day in the Life of a Firefighter
Reach for the Stars
Humpback Whales
Dolphins are Not Fish!
My Father Runs an Excavator...and so do I!
The Story of Milk - How Bees Help Cows
Music & CDs
Starfall Sing-Along Volume 1
Starfall Sing-Along Volume 2
Star Writer Melodies Instrumental CD
Classic Starfall.com Installation CD-ROM
26 Downloadable Read-Along MP3s
Posters
American Sign Language Poster
Set of 10 Instructional Posters
Wall Cards & Instructional Cards
ABCs, Numbers and Colors Wall Cards
Emotions Wall Cards
Learning Center Wall Cards
Gingerbread Boy's Instructional Card Set
Incentives and Tools
Gingerbread Boy Stickers
Gingerbread Boy Rubber Stamp
Fiction, Nonfiction, Folk Tales, Fairy Tales, Nursery Rhymes,

WARNING: CHOKING HAZARD
Small parts. Not for children under 3 yrs.