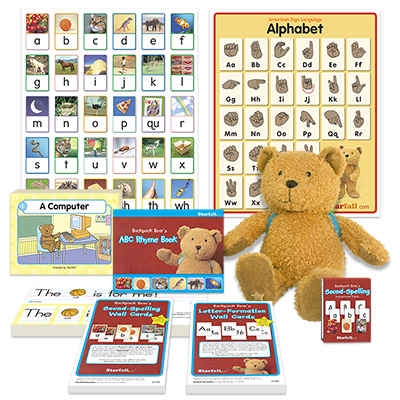 KIT56
Backpack Bear's Predecodable Phonics Kit
Essential predecodable phonics materials, all in one kit! This kit supports explicit and sequential phonological and phonics instruction. The cards, posters and books are essential components of a Starfall Kindergarten classroom.
Backpack Bear's Predecodable Phonics Kit
Plush Backpack Bear
Sound-Spelling Wall Cards
Letter-Formation Wall Cards
Sentence Strips, Cards & Cover Cards for Starfall Predecodable Books
Sound-Spelling Poster
ASL Alphabet Poster
Backpack Bear's ABC Rhyme Book
Sound-Spelling Instructional Cards
Backpack Bear's Books Set (12 predecodable books)
ISBN: 978-1-59577-124-7
978-1-59577-053-0
978-1-59577-178-0


WARNING: CHOKING HAZARD
Small parts. Not for children under 3 yrs.