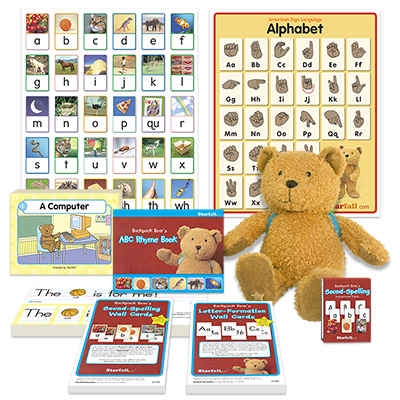 KIT56
Backpack Bear's Predecodable Phonics Kit
$81.17/kit
Essential predecodable phonics materials, all in one kit! This kit supports explicit and sequential phonological and phonics instruction. The cards, posters and books are essential components of a Starfall Kindergarten classroom.
Backpack Bear's Predecodable Phonics Kit
Plush Backpack Bear
Sound-Spelling Wall Cards
Letter-Formation Wall Cards
Sentence Strips, Cards & Cover Cards for Starfall Predecodable Books
Sound-Spelling Poster
ASL Alphabet Poster
Backpack Bear's ABC Rhyme Book
Sound-Spelling Instructional Cards
Backpack Bear's Books Set (12 predecodable books)

WARNING: CHOKING HAZARD
Small parts. Not for children under 3 yrs.