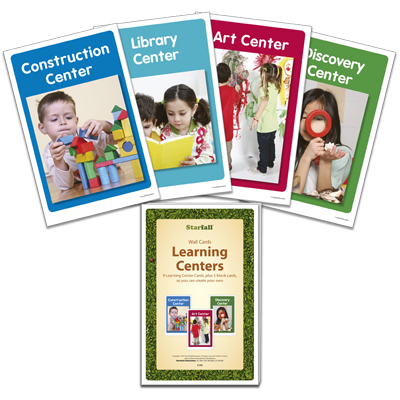 C153
Learning Center Wall Cards
Direct children to Pre-K Learning Centers with these picture-word cards. They are perfect for pocket charts. Blanks are included to create your own. 9 full-color cards, 5 blanks. 8.5" x 5.5."
Learning Centers Wall Cards identify your Pre-K classroom's centers, corresponding to Starfall's Pre-K Teacher's Guide. Each card includes a photo of a child engaged in an activity to remind children of their focus at that center. Each card is clearly labeled.
Learning Center Wall Cards:
Construction Center
Art Center
Discovery Center
Library Center
Computer Center
Dramatic Play Center
Writing Center
Math Center
Exploration
5 blank cards
ISBN: 978-1-59577-182-7

©2012 Starfall Education
Dimensions: 8.5" X 5.5" X 0.25"