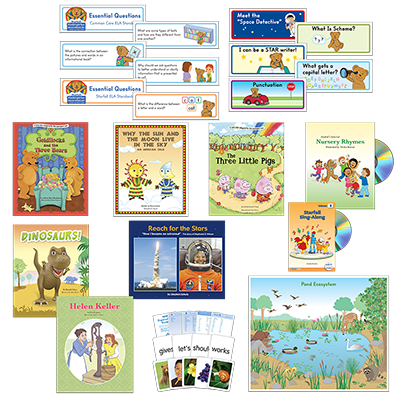 TKIT04-Upgrade
K-ELA Classroom Upgrade Kit, Second Edition
$80.00/kit
K ELA E2 Classroom Upgrade Kit - TKIT04-Upgrade
Already using Starfall's Kindergarten ELA curriculum in your classroom? This kit includes most of the NEW materials required for K-ELA - 2nd Edition, except the Zac and Friends Chapter Books, Level-K Practice Books, and a Starfall membership.
Starfall's Kindergarten ELA Curriculum is aligned with the Common Core State Standards as well as the learning standards in several individual states. Click here for more information.
Complete downloadable Kindergarten ELA Second Edition Teacher's Guide available for download in the Parent-Teacher Center™.
Order required practice books and variable quantity items by answering the questions below.
Classroom Upgrade Questionnaire
Classroom Upgrade Questionnaire
Required
Items
Optional
Items
Website Membership
Review Your Order