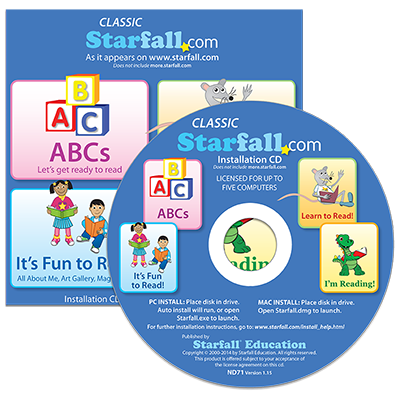 ND71
Classic Starfall.com Installation CD-ROM
Enjoy classic Starfall.com content even when you don't have internet access. This CD-ROM requires minimum operating systems of OS 10.3 (for Mac), or Windows 2000 (for PC). Load the disk in your computer's drive, download and install it, then select the Starfall icon on your desktop. Enjoy the same activities accessible for free at Starfall.com. Note that this CD-ROM does not include membership activities available on Starfall.com and Starfall FREE app.
Classic Starfall.com Installation CD-ROM
ABC's: Let's Get Ready to Read
Learn to Read: Zac the Rat and other Tales
It's Fun to Read: All About Me, Art Gallery, Magic + more
I'm Reading: Plays, Nonfiction, Comics + more
Calendar and seasonal activities
ISBN: 978-1-59577-186-5

©2014 Starfall Education
Dimensions: 5" X 5" X 0.08"